Bragging rights: City bigwigs flummoxed by popstars central bank lecture
City bigwigs were left scratching their heads today as eighties popstar and left-wing activist Billy Bragg delivered a lecture at the Bank of England.
Bragg took aim at the governments post-financial crash quantitative easing (QE) programme in a presentation entitled: "The Struggle for Accountability in the Digital Age."
"[QE has] undoubtedly saved ordinary citizens from a great deal of financial pain, an attempt to return to business as usual via an extended period of austerity has caused a great deal of misery," he said.
Former Monetary Policy Committee (MPC) member Andrew Sentance labelled Braggs appearance as "weird" and "from an economic standpoint, it is a bit of a non-event".
"I wouldnt see him as a guru of the digital age. In fact, he comes across to me as a bit of a throwback to the eighties," he told City A.M..
"I do think it is a bit of a publicity stunt and a waste of the banks resources."
Read more: Activist Billy Bragg heads to the Bank of England to "look them in the eye"
Down with the kids
Pizza Express founder Luke Johnson called Bragg a "charming fella"
He is a talented musician; I am not sure he understands economics, finance, business, how the world actually works.
Johnson wondered whether the event was a product of the Bank of England "trying to be a bit cool" and "get down with the kids".
Bragg made several radio and TV appearances throughout today to force his point home.
"I don't see why that sort of money, the QE money, couldn't be directed to schools, to hospitals and to a national investment bank what works with small and medium-sized enterprises," he said.
Anthony Evans, a professor of economics at ESCP Europe Business School said: "I'm all in favour of the Bank of England listening to dissent and taking radical views seriously, but I'm not sure what their objective is here.
"Bragg's views on QE are a combination of misguided and dangerous."
Read more: Bragg denies Corbyn split after calling Labour leader a "20th century man"
[contf] [contfnew]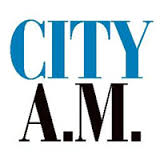 [contfnewc] [contfnewc]