Heart failure: Wake up before it's too late
NEW DELHI: Walking is the best way to prevent heart ailments and it is time all citizens, especially the young, took a step towards a heart disease free life. This was the opinion of Odishas leading cardiologists at the Beat Heart Failure Initiative, organised by The Times of India, in collaboration with Novartis India, in Bhubaneswar.
"A brisk walk for 15 minutes daily goes a long way in keeping the heart healthy," said Hrudananda Mishra, a cardiologist with Kalinga Institute of Medical Sciences in Bhubaneswar. "From today, we must all walk towards a healthier life," added health secretary Pramod Meherda, himself a doctor.
The doctors stressed the need to prepare a cardiac registry to prevent the occurrence of heart diseases. Such a registry would not only help doctors understand the main reasons for cardiovascular deaths, it would help create a road map to tackle heart diseases.
(From left) Dr Tanmay Das, Dr H N Mishra, Dr B B Mohanty, Dr J K Padhi, Dr R R Satpathy, Paromita Chatterjee (moderator), Dr Panchanan Sahoo, Dr Chandrabhanu Parija, Dr P K Sahoo and Dr K K Padhi
"A heart failure registry is the need of the hour. It can be a joint initiative of the government and private healthcare service providers," said Tanmay Das, a cardiologist at Care Hospitals in Bhubaneswar. The panellists at the Beat Heart Failure Initiative explained that heart diseases could be avoided altogether if changes were made at the systemic level – for example through the creation of a cardiac registry – and at an individual level, through good habits. The healthcare professionals said a massive awareness drive should be launched among the public on the factors that increase the risk of heart disease.



"Patients in remote areas do not know how to take care of themselves. We should tell people the risk factors involved and the lifestyle modifications needed," said Chandrabhanu Parija of AMRI Hospital, Bhubaneswar. Stating that the average age of the people suffering from heart diseases was getting lower every day, the cardiologists focused on preventive care and early detection of the disease. They also highlighted the need to improve diagnosis and treatment of heart ailments at primary healthcare centres through public-private tie-ups.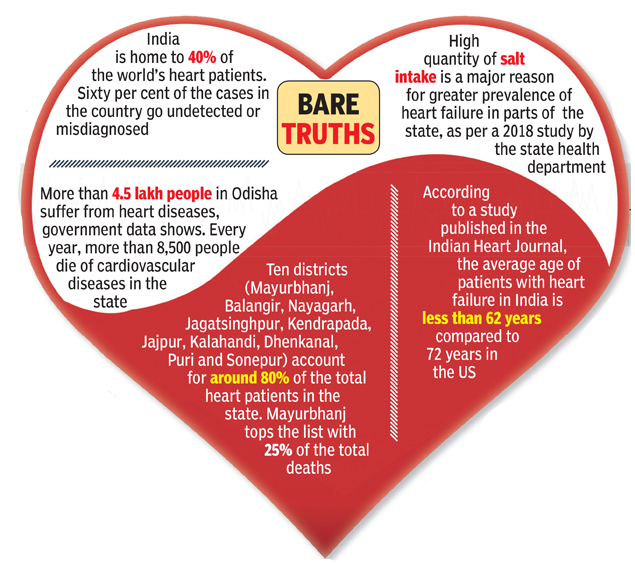 "Heart failure is ill-understood. People dont recognise the symptoms, leading to prolonged suffering and a painful death. We are doing massive screening of heart diseases," said director, health services, Dillip Sarangi.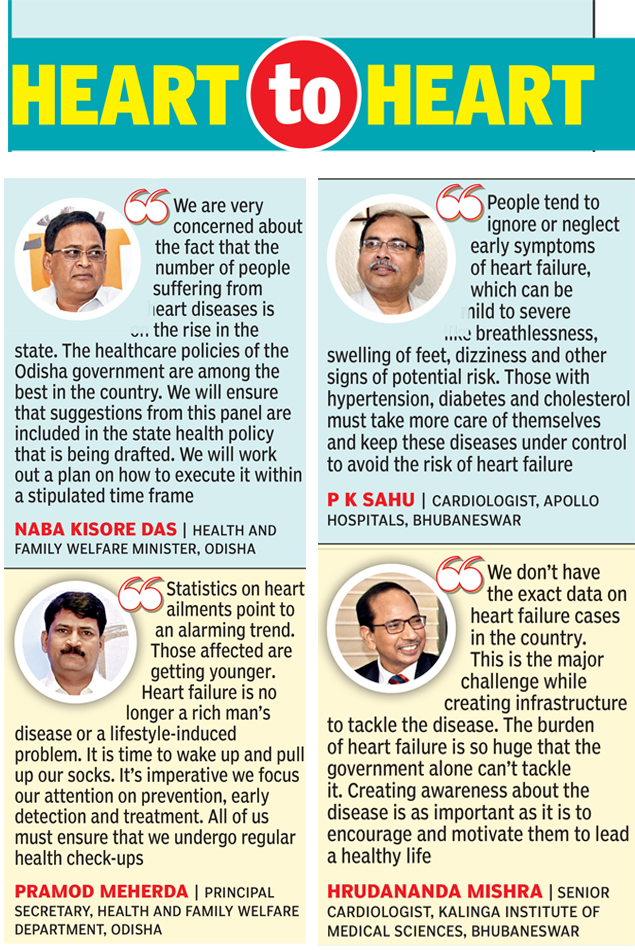 For early detection of various noncommunicable diseases (NCDs), the Odisha government has conducted population-based screening of around 40Read More – Source